Master Coach Aaron Lew / 大师级教练 柳星亮
Aaron is with ChiRunning Founder, Danny Dreyer (picture left)
Aaron is Garmin Coach and Ambassador
Master Coach Aaron Lew
Founder of Chi Wellness & Beauty, Coach Aaron is a Master ChiRunning & ChiWalking Instructor (Certifying Master), NROC Triathlon/Garmin Coach and Singapore Health Promotion Board's fitness instructor.  He has raced every distance from 5K to ultra marathon, triathlons, IRONMAN to adventure racings.
ChiRunning & ChiWalking Coaching Experience
Aaron is a Certifying Master ChiRunning & ChiWalking Instructor (highest level Master). He has been coaching ChiRunning since 2013. He lives in Singapore and teaches in the Greater Asia Pacific area (Singapore, Indonesia, Malaysia, Taiwan, Hong Kong, China). He has coached many people to reach their goals. Read success stories of Aaron's coaching.
Aaron has diligently and enthusiastically worked his way up, he was nominated as the Instructor of the Month by ChiLiving. Read what Aaron shares for being the Instructor of the Month here.
Triathlon Chi-Training
Aaron is an accomplished triathlete/IRONMAN. He coaches ChiCycling, CORE Guru Fitness and swimming for all works of life. Read more on Triathlon Chi-Training.
Elite Racing
Aaron is an ex-national triathlete and a national representative competed in world-class adventure racing competition. He is a podium marathoner, ultra-trail runner, and IRONMAN triathlete. Aaron ran his first marathon when he was 19 years old in 3 hours 11 minutes. Read more on Aaron's racing highlights.
Aaron is introducing Chi Wellness & Beauty
Coach Aaron is Health Promotion Board Fitness Instructor
Aaron coaches running in SportsSG Mentorship Program
A) Outstanding Achievements – Running/Triathlons/Duathlon
| | |
| --- | --- |
| Events | Outstanding Achievements |
| Asian Triathlon Championship 2001, Malaysia | National Triathlete |
| The North Face 50km Ultra 2012, Singapore | 4th Men's Open |
| IRONMAN Western Australia 2012, Australia | IRONMAN Triathlon Finisher |
| Desaru Half Ironman 2008, Malaysia | Age Group Top 10 |
| Standard Chartered Marathon 2003, Singapore | Men's Local Top 10 |
| Mobil Marathon 2001, Singapore | Men's Local Top 10 |
| Powerman Malaysia 2002 | 4th Age Group |
| Sijori International Marathon 1995, Malaysia | Men's Top 10 |
Aaron competed in Ultra Trail Marathon
B) Outstanding Achievement – Adventure Racing
| | |
| --- | --- |
| Events | Outstanding Achievements |
| Mild Seven Outdoor Quest 1999, China (World Class Adventure Racing) | Team Mild Seven (National Team) |
| Mild Seven Outdoor Quest 2001, China (World Class Adventure Racing) | Team AXN (AXN Co-operate Team) |
| Local & Regional Adventure Racings (National Geographic, AXN Challenge, etc) | Podium Racing Team (Team Site Forum, Eco-Wizards, New Balance, Brooks) |
Aaron in Team AXN in Mild Seven Outdoor Quest 2001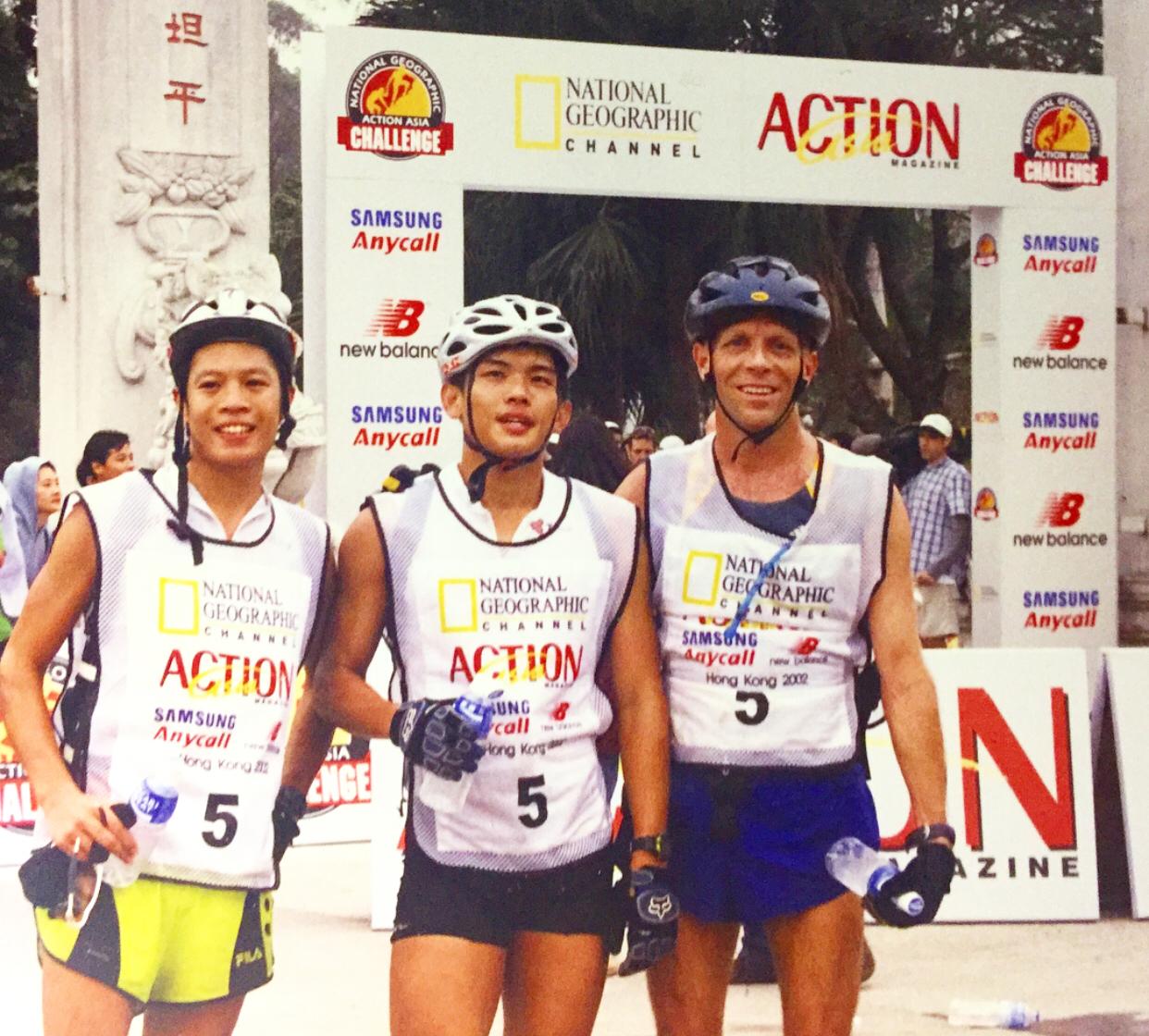 Aaron in Team Site Forum in National Geographic Challenge
List of related coaching certifications
S/N
Professional Sports Coaching Related Certifications
1
Master ChiRunning & ChiWalking Instructor

SportsSG Run Mentor

2
Level 1 Swim Coach

Swim Club Leader

3
Garmin Coach
4
NROC Triathlon Level 1 Coach
5
Basic Sports Science
6
Life Saving 1, 2 & 3 Awards
Ambassador
AXN, Emirates Airline, Rudy Project, Garmin, New Balance, Fila, Brooks, Site Forum